Are you satisified with the life your living....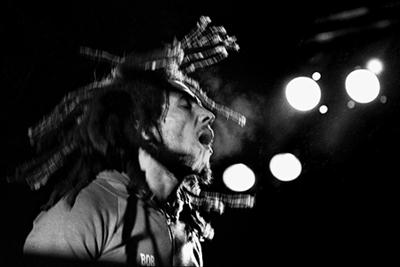 Robert Nesta Marley born February 6, 1945 in Nine Miles, St. Ann Jamaica, transcended the humility of his rural beginnings to become a million-selling artist and entertainer whose pleas for brotherhood, justice and peace achieved international fame.
Few have attained the level of fame Marley did in his short time on the world stage. Marley's "world stage" was a true one; as a performer whose sensibilities were thoroughly enmeshed in the developing world--his world--Marley addressed poverty, the loss of cultural identity, and racism. In other words, he sang about issues that mattered to people just like him. Yet, Bob Marley was in ways very different from the people like him. His father, a colonial functionary named Captain Norval Marley, was white, and left the young Robert Nesta Marley with a surname and little else before disappearing shortly after the boy's 1945 birth.
Trench Town, immortalized in the Marley songs "Trench Town Rock," and "No Woman No Cry," was young Bob's first home in Kingston. At the young age of 16 he started singing professionally, releasing his first single "Judge Not". Under the coaching of Joe Higgs, Bob Marley met two other youngsters Bunny Livingstone & Peter Tosh and together the Wailing Wailers group was formed in 1963. By 1966, Bob had met and married Trench Town singer, Rita Anderson.


The young Bob was an early and impassioned convert to Rastafarianism. The unique Jamaican sect espouses redemption for displaced Africans through rejection of western influences and identification with the late Ethiopian emperor Haile Selassie I, who is considered by Rastafarians to be the personification of God, Jah Ras Tafari. Marley's music was reggae, a form virtually unheard outside Jamaica, until his early-'70s explosion on the scene, along with original Wailers Neville "Bunny" Wailer (Livingston) and the late Peter Tosh.
In 1972, Island Records president Chris Blackwell signed the Wailers to a record contract allowing them to release records under the "Tuff Gong" label. After there first two albums the group broke up leaving Marley as the head of the band. A female back-up group called the "I-Threes" - Rita Marley, Judy Mowatt & Marcia Griffiths was then added to the band and the new group was named "Bob Marley and The Wailers".
In 1979, Marley made his first trip to Africa where he visited Ethiopia, the spiritual refuge, the Zion, of Rastafarians. A North American and European concert tour and live album, Babylon By Bus, followed, as did more trips to Africa. At a 1980 concert in Zimbabwe, Marley honored the country's independence ceremony by singing his single "Zimbabwe" to an ecstatic crowd.
It was partially due to his Rastafarianism, with its attendant imagery of dreadlocked adherents toting "chillums" (pipes), thumb-thick spliffs of ganja, and mystical connections to African kings, that Marley was also regarded by many to be no less than a poet-seer and prophet, the self-proclaimed "duppy conqueror" of ever-strong legend.
Messiah or not, Marley's music wasn't limited to message-laden tracts; he had a playful and soulful side, and his songs also addressed the universal themes of love, sexual yearning, and spirituality. In the early days, Marley's lyrics were accompanied by the choppy backbeat of ska, and later the 1960s rage, rock steady. Finally, he put his stamp on, and eventually claimed, reggae, a unique Jamaican sound that, without his titanic presence, might have become just another Caribbean backdrop sound, the elevator music of tourist resorts.
He later formed the Tuff Gong label, taken from a street name of his. At Greenwich Park Road the Marley family began to grow to a total of 11 acknowledged children, four with Rita. Today, the grown offspring have formed the popular Melody Makers band, which features Cedella, David ("Ziggy"), Sharon, Steven, and others.
Marley had injured his toe during a soccer game some years before. The wound, after some perfunctory treatment, had never healed properly. After the New York collapse, tissue around the toe was discovered to be cancerous, and further tests showed the disease had spread to his liver, lungs, and brain. He fought the cancer for several months, even submitting to a radical and experimental non-toxic treatment--which appealed to Marley's Rasta sensitivities--at the clinic of Dr. Josef Issels in Bavaria. Yet, even at that, the man and the mystic, the "duppy conqueror" of one of his most famous songs, was unable to conquer the invader within. He died in a Miami hospital, en route to Jamaica, on Monday, 11 May 1981. He had just been awarded Jamaica's third-highest civil honor, the Order of Merit. The funeral procession carrying him to a hillside mausoleum at his birthplace in Nine Miles, stretched more than 50 miles. Of course, gods or near-gods never die, to which millions of Bob Marley fans can attest. Marley's January 1994 induction into the Rock and Roll Hall of Fame capped his reputation, if not his career in absentia.
Reggae is a worldwide music form that's shown no sign of abating in the years following Bob Marley's death. Many successful musicians have taken up the mantle and brought reggae into the '90s, although none yet with the staggering success of the Wailers. As a spokesman for Rastafarianism and worldwide black unity, Bob Marley attracted a solid following in third-world nations, particularly in Africa, where he is emulated through imitation and some adherence to a modified Rasta creed.
Jamaicans Freddie McGregor, Dennis Brown, and Gregory Isaacs (the Cool Ruler), all consistently popular, have kept the standards high. Bands such as Steel Pulse, Black Uhuru, and Third World, after personnel changes and career dips, have reformed and continue to make albums. The venerable Burning Spear continues to record. The great Jimmy Cliff, a reggae artist since the late '60s, continues to tour and record. Peter Tosh, after a successful solo career, seemed like the one to carry the reggae torch in the years after Marley's death. Tragically, Tosh was murdered in a 1987 attack at his Barbican, St. Andrew home. The mercurial Bunny Wailer still performs. He is currently working on what may turn out to be the definitive Wailers story, his biography, called Old Fire Stick.
Marley, who died intestate, left approximately $30 million to his wife and 11 children, and his music continues to earn nearly $3 million per year. The successful Tuff Gong International has seen continued success, and is now headed by Marley's daughter Cedella. The Melody Makers, a Grammy award-winning group, continues to record and tour. Even Cedella Marley Booker, Bob Marley's mother, has cut an album of reggae-gospel tunes entitled Awake Zion. Few Jamaicans today would fail to recognize Marley's bouncing, wild dreadlocks, the piercing eyes, and the high-cheeked, gaunt visage. In 1995, the year Marley would have turned 50 years old, it became more ubiquitous as the Jamaican government issued anniversary commemorative stamps, as well as a mint coin, bearing the Marley profile.
The annual February sixth Bob Marley Birthday Bash is now a national holiday, and the four-day party that surrounds it consists of performances by Jamaica's top reggae artists, including Ziggy Marley, the I-Threes, and Burning Spear. The event has been held at Nine Miles, St. Ann (Marley's birthplace), as well as the Bob Marley Museum in Kingston.



---
1999@PrmeTyme